How Elmo™ Technology Works
Elmo™ Smart Detection sensor is installed in the top corner of the room. One sensor covers a distance of approximately 10m. Sensors are communicating through a wireless network (WiFi) using a base station or over PoE. In the WLAN version, each sensor has its power feed from a normal power socket. Elmo™ is easy and quick to install.

Right care at the right place at the right time to prevent falls and injuries

Nurses can see playbacks of events or a live stream of a room or a whole ward: this feature helps to prevent falls occurring.
The playback of events (e.g., incidents of falling) reveals residents' movements minutes before a fall occurs which enables preventative care and action against falls in the future.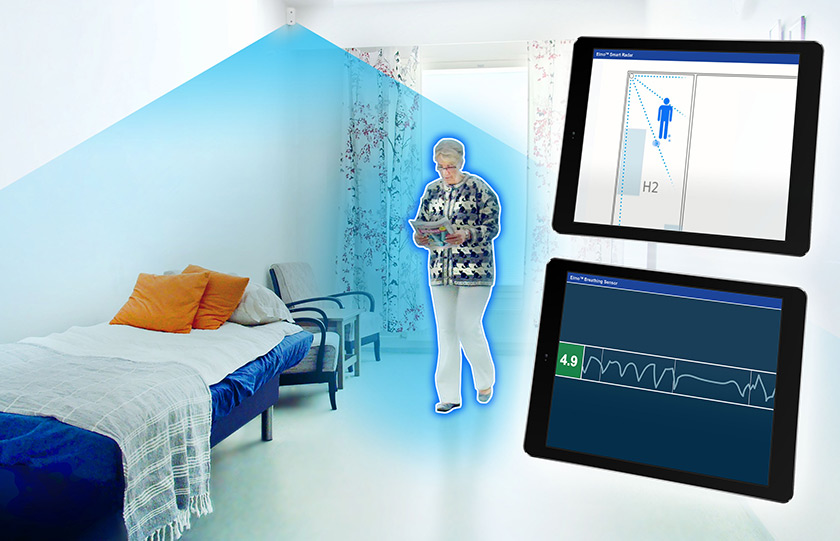 Breathing detection and alarm system
Elmo™ Smart Detection can also be directed towards the bed to provide vital information on sleeping patterns. It notices any irregularities in breathing and alerts the nursing staff if breathing is difficult or stops completely.
Night nurses can access the live stream from residents' apartments during the night time - and see if residents are sleeping or actively walking around in the apartment. This feature improves efficiency and helps the nurses ensure the residents get a proper night's sleep, without disturbing them with the usual routine room-checks.