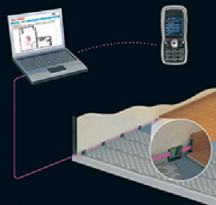 Elsi Technologies is pleased to announce that it has won the Kauklahti elderly care home project in Espoo, comprising 62 apartments with its innovative ELSI Safety Floor care home monitoring system.
The ELSI laminate which detects
movement is installed under the floor and is completely invisible to the
occupants. It can be configured to detect various events such as when the
occupant falls down, spends too long in the toilet, leaves or enters the room
or gets out of bed. Alerts of such events are directed to nurses´ mobile phones
in real time, providing nurses with "an extra pair of eyes and ears".
Unlike conventional nurse call
systems the ELSI system is the first really proactive nursing tool, meaning it
can alert the nurse to help at critical times before accidents happen. ELSI
simply aims to send the right nurse to the right location at the right time.
The Kauklahti care home will now
be the twenty first care home in Finland covered by the ELSI system and in line
with our growth strategy we expect the first orders to be announced soon in the
international care home market.