News: Eldelry care safety and sensor systems - sensor flooring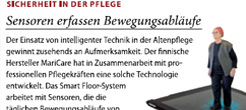 Der Einsatz von intelligenter Technik in der Altenpflege gewinnt zusehends an Aufmerksamkeit. Der finnische Hersteller MariCare hat in Zusammenarbeit mit professionellen Pflegekräften eine solche Technologie entwickelt.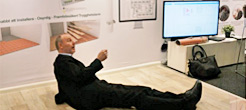 Hur viktigt är det att veta att våra äldre nära och kära är trygga? Ovärderligt, skulle nog många svara. När e-teknologin kan skapa trygghet och arbeta för individens säkerhet är den som bäst.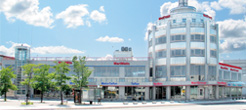 Ageing Asia is pleased to announce the finalists of the 4th Asia Pacific Eldercare Innovation Awards. Held in conjunction with the 7th Ageing Asia Innovation Forum, the awards ceremony & dinner will be held on 27th April at Marina Bay Sands Convention Centre, Singapore.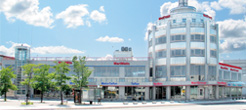 MariCare est une société finlandaise, basée à Helsinki, qui a développé la technologie des sols dits « intelligents » Smart Floor.
Ces sols connectés sont utilisés dans les établissements d'accueil pour personnes âgées, mais aussi au domicile des seniors bénéficiant de soins infirmiers, pour améliorer la prévention des risques d'accidents de la vie quotidienne.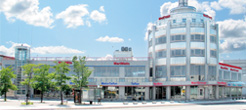 Les technologies intelligentes peuvent aider les personnels soignants à accomplir leur mission et améliorer les conditions de vie des seniors et/ou des personnes à mobilité réduite.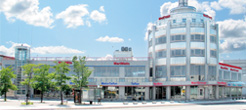 Les technologies intelligentes peuvent-elles réellement aider les établissements de soins et de santé à réduire les coûts dans les établissements de soin ?
Pour en savoir plus, nous nous sommes entretenus avec Palle Stevn, de MariCare, fabricant des "Smart Floor Elsi®".